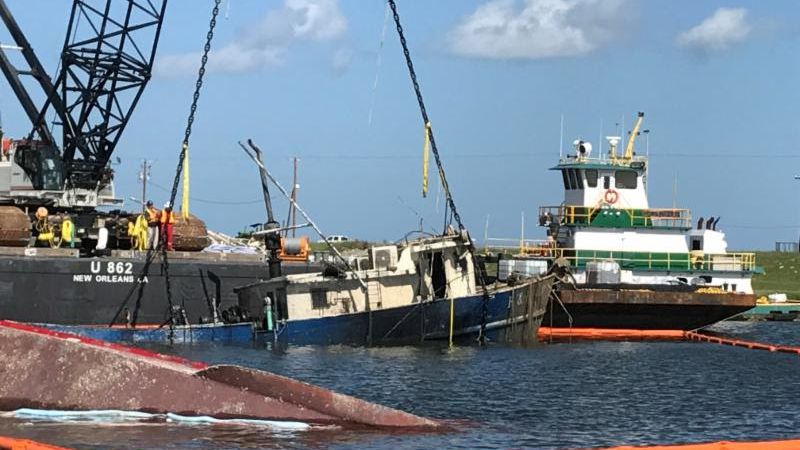 The fishing vessel R&R is floating once again after spending a month at the bottom of Conn Brown Harbor in Aransas Pass, Texas. The 100-ton shrimp boat got entangled with another vessel and sank during Hurricane Harvey. She was refloated by Global Diving and Salvage, which was contracted by the Coast Guard and the Texas General Land Office (GLO) to remove her from the waterway. Approximately 6,000 gallons of diesel fuel and other pollutants were pumped off before de-watering the vessel.
"We are committed to working with and supporting the state of Texas to safely remove the oil and hazardous substance pollution threats from the maritime environment," said Commander Tedd Hutley, incident commander of the Coast Guard-GLO unified command ESF-10. "Our goal is to protect people and the environment and help impacted communities get back to normal."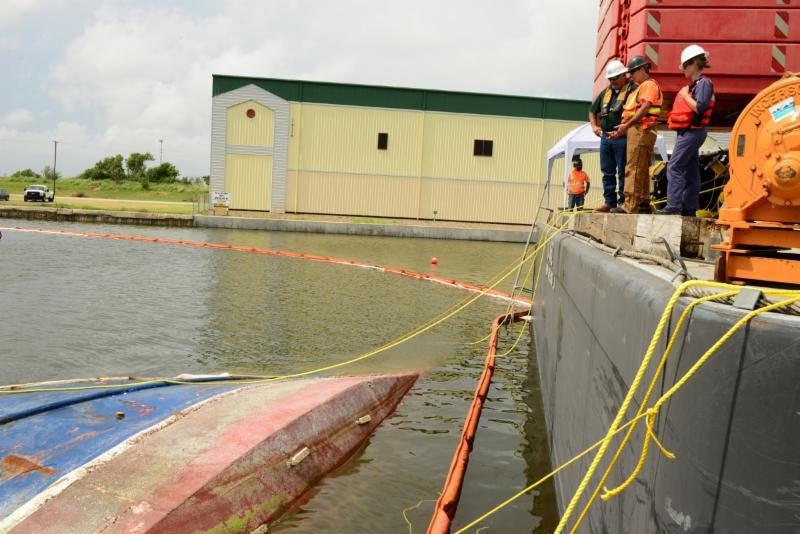 James Dueñes, senior response officer of Texas General Land Office, Pete Jobes, salvage foreman of Global Marine Diving and Salvage, and Coast Guard Petty Officer 2nd Class Jessye Buswell (USCG)
The sunken vessels R&R and Dragon's Den were a priority due to the risk they posed to the environment and to marine traffic. The boats are two of nearly 200 wrecked vessels, both commercial and recreational, that GLO intends to remove.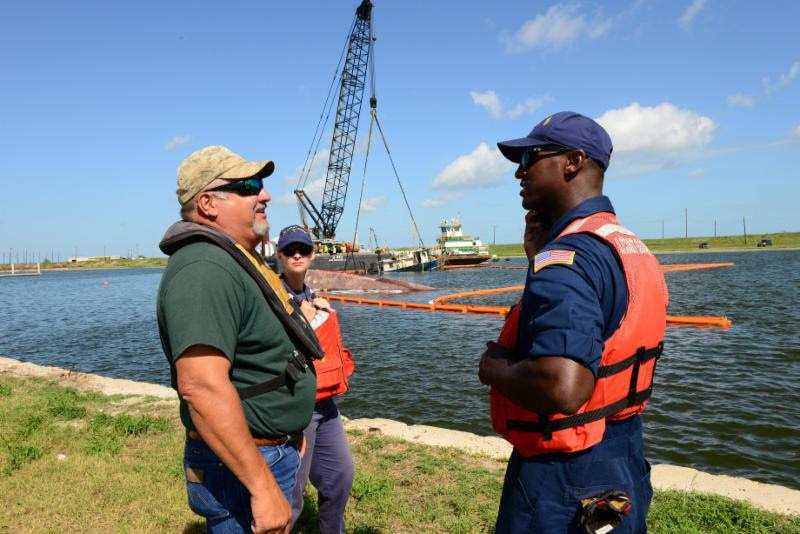 Dive teams cut away the tangled masts and rigging of the two vessels on the seafloor before any work could be done, suggesting strong thrashing occurred between the vessels before sinking, said Kerry Walsh, project manager with contracted company Global Diving and Salvage. When the storm hit the boats were tied up side-by-side at the dock and ultimately broke away from the concrete sea wall when the cleats broke from the strong hurricane winds.
"I think they just sunk themselves,"
said Walsh. "Together and tangled up, they put themselves in a predicament and down-flooded. Right now, after pumping out the R&R, she's floating and whatever damage that occurred was topside."
1 times edited. Last time by IvanKolesnyk - October 17 2017, 8:30.